The Finnish Environment Institute (SYKE), together with the University of Eastern Finland, the University Properties of Finland Ltd (SYK), the City of Joensuu and Joensuu Elli, the local student housing association, is establishing two meadow areas on the Joensuu campus. The meadows are part of SYKE's 25th anniversary celebrations. SYKE works for a more sustainable environment and society and donates the meadows  among other things as a SYKE25 gift. The meadows give delight to both pollinators and people.
The planned meadows are located in the middle of the university campus on both sides of Siltakatu. Perennial meadow flowers are sown in the areas, as well as bulbous plants that bloom early in the first spring.
"Establishing the meadows on the Joensuu campus is a perfect fit for our nationwide project, in which we aim to support biodiversity. We have also carried out projects that improve nature values ​​on our other campuses", says Ari-Pekka Lassila, Sustainability Specialist at SYK.
In its strategy for 2021–2030, the University of Eastern Finland is committed to building a responsible and sustainable future.
"Promoting biodiversity contributes to this goal", says Tarja Harjula, Senior Property Manager at the University of Eastern Finland.
A diverse nature is the basis of human well-being. Of the most important pollinators in Finland, ie bees, bumblebees and butterflies, almost one in five is already endangered.
"Joensuu's SYKE staff wants to contribute to the diversity of the urban environment and the well-being of those on campus", says Jaana Kolehmainen from SYKE
The disappearance of pollinators is a threat not only to nature but also to humans, as 75% of crops need insect pollination. In Finland, too, the yields of insect-pollinated crops have begun to decline. By setting up a meadow, one can do the little research based act to help with insects.
In addition to the meadows to be established on the campus area of ​​the University of Eastern Finland, SYKE has established meadows and a green roof at its Helsinki Viikki site. SYKE's other locations in Jyväskylä and Oulu have also committed to similar actions to help pollinators.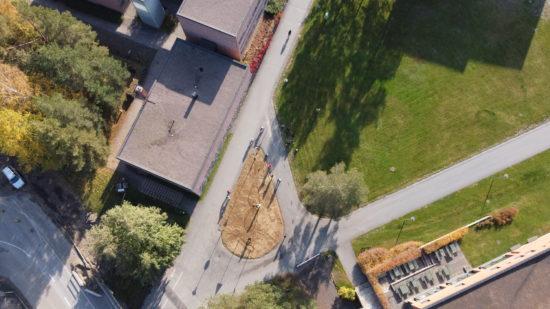 Lisätietoja:
Head of office, Chemist Jaana Kolehmainen, Finnish Environment Institute (SYKE), firstname.lastname@ymparisto.fi, tel +358 29 525 1821
Senior Property Manager Tarja Harjula, University of Eastern Finland (UEF), firstname.lastname@uef.fi, tel +358 50 331 0736
Chief Executive Officer Jamo Ojalainen, Joensuun Elli, firstname.lastname@joensuunelli.fi, tel +358 50 329 5220
Sustainability Specialist Ari-Pekka Lassila, The University Properties of Finland Ltd (SYK), firstname.lastname@sykoy.fi, tel +358 40 8346 388