The BREEAM Awards is an annual celebration that proudly recognises the people, projects and organisations that are leading the way with significant achievements in sustainable building design, development, and management. BREEAM organisation is annually delivering the prizes in different classes like Public sector projects, Commercial projects and many more as well as prizes in Design stage awards, Post construction awards and In-Use awards. You can view more about the judging from BREEAM web: https://www.breeam.com/awards/judging/
Kampusareena was completed in 2015 and it is owned by University Properties of Finland Ltd. Kampusareena won in 2021 awards its' own class of public sector project and BREEAM in-Use. The winning of this class was published 23rd March 2021. And the shortlisted ones of many projects in the class were the following:
Gronland 58, Papirbredden 1 – Norway
Holtermanns veg 70, Trondheimsporten – Norway
Kullen 1 – Sweden
Kampusareena – Finland
Kampusareena is the first multi-user university building in Finland: it brings together companies from various fields as well as students and researchers. Encounters in Kampusareena generate ideas, research and development projects, innovations, jobs, and other success opportunities. The total building area is 15 100 brm² of which about 60 % is occupied by the university and the rest by about 100 companies that use the spaces for example for recruiting students.
Kampusareena is located in Tampere (Finland) in the heart of the campus of Tampere University. With its 9 floors and a sloping green roof Kampusareena is a visual reference for the whole surrounding neighbourhood. The green roof has the biggest biodiversity of all Finnish green roofs. In addition to the diverse flora, the roof hosts insect hotels.
One of the other interesting key environmental features of the building are the solar panels on the façade. Kampusareena has 560 PV panels that also function as solar shades as they are installed on the walls on top of the windows on the southern and western sides.
Kampusareena's contributions for sustainability do not cover just environmental and business opportunities. The building has succeeded in supporting the local community, too. The building – both indoors and outside – is a centre for activities and recreation. In summer, the green roof serves as social meeting point and in wintertime, students have used this inclined roof for example for downhill activities.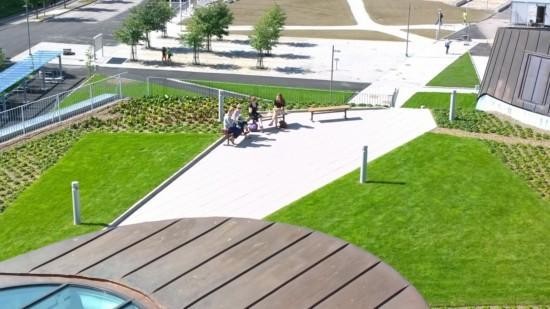 For University Properties of Finland Ltd, it is extremely important that many of our buildings are certified with BREEAM certificate. This helps us to take into account environmental as well as other sides of sustainability.
We are very grateful about this prize that Kampusareena has won. And we would like to thank you all who have given their votes for Kampusareena and the judges for this great honour that you have shown for the building by choosing it to be the number one in this class. Judges have said their selection was based Kampusareena`s holistic approach on sustainability, multi-user purpose, green roof and user satisfaction.
"This international acknowledgement is an excellent recognition of the visionary work of University Properties of Finland Ltd and its successful collaboration with Tampere University. Kampusareena is a location that combines the different activities carried out on the Hervanta campus. The building sits well within its surroundings and supports not only the activities of the University but also the achievement of our sustainable development goals," says Pertti Iso-Mustajärvi, director of Facilities Management at Tampere Universities.
"We are so proud of the prize that Kampusareena has been given. It is also great, that this already when being built certified building has obtained the the certificate now also for use and maintain functions – and still honoured with prizing! It was great to win the prize from the large goup of Northern country finalists," tells sustainability specialist Ari-Pekka Lassila at University Properties of Finland.
Contact information:
University Properties of Finland Ltd
Ari-Pekka Lassila, Sustainability specialist
tel. + 358 40 834 6388
E-mail: ari-pekka.lassila@sykoy.fi